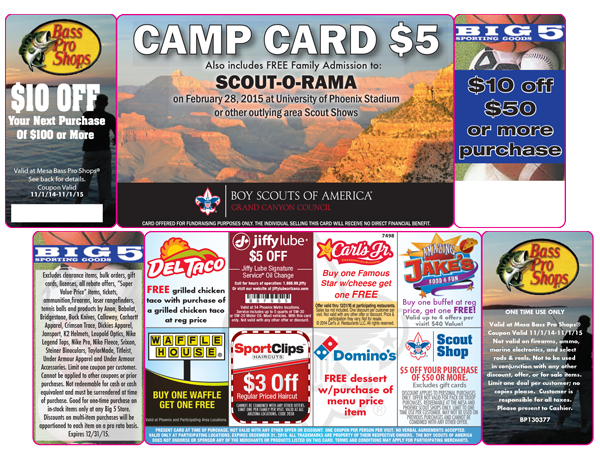 Units participating in the program will earn up to 35% commission, ($1.75) on each $5 Camp Card sold by their Scouts. Units then manage the commissions for the Scouts, using the funds to pay for camp.
The Leaders' Guide with campaign details is available in the Resources section below. The sale will end on February 22, giving units two months to sell. This program is risk free — simply return any unsold/undamaged cards.
Important Date:

Camp Card Settlement - February 20, 2015
Camp Card Flyer click here
The following businesses are slated to participate by providing discounts using the Camp Card this year:
Big 5 Sporting Goods ($10 off $50 or more purchase)

Del Taco (FREE grilled chicken taco with purchase of one)

Jiffy Lube ($5 off Jiffy Lube Signature Service Oil Change)

Carl's Jr. (FREE Famous Star w/cheese with purchase)

Amazing Jake's (buy one buffet get one FREE)

Waffle House (Buy one waffle get one FREE)

SportClips ($3 off haircut)

Domino's (FREE dessert with purchase of menu price item)

Scout Shop ($5 off your purchase of $50 or more)
The value of selling Camp Cards:
Cub Scout Day Camp: $75 = 43 cards

Boy Scout Resident Camp - Raymond: $295 = 169 cards

Boy Scout Resident Camp - Geronimo: $350 = 200 cards

Boy Scout Aquatics Camp: $225 = 129 cards

Webelos Weekend: $69 = 40 cards

Webelos Encampment: $180 = 103 cards
To sign up, contact the Council Service Center or District Executive.
Can't find a Scout selling Camp Cards? No problem! Just stop by the Council Service Center, 2969 N Greenfield Rd, Phoenix, AZ 85016, to purchase them or call us at (602) 955-7747.
Resources: