Heard Scout Pueblo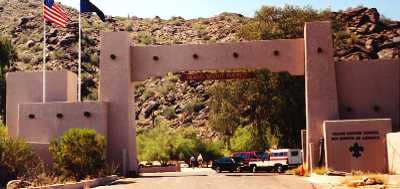 Winter Day Camp is Here!!
The Heard Scout Pueblo is located at 1901 East Dobbins Road (20th Street, one mile south of Baseline Road) in Phoenix, and the adventure begins at the entry. Reflecting the old Southwest atmosphere of the area and the camp itself, the adobe style architecture of the entry way is reflected throughout the camp.
Heard Scout Pueblo is named for the Heard family, who donated the property to Boy Scouts in the late 1920`s. At the time, the Heards were the publishers of the Arizona Republic newspaper. They had also begun their collection of native Southwestern artifacts, which evolved into the Heard museum, housed in their home near Central Avenue in Phoenix.