Welcome to the . . .

F
our Peaks District
It is all about the BOY
BUILD unit size by active recruiting
Provide a place for youth to BELONG
Create opportunities to BECOME
---
---
Please click here for the First Quarter newsletter!
---
Don't miss your opportunity to grow your pack this fall! Go to www.beascout.org to see if your pack is well represented. You can make changes to your online presence through your www.myscouting.org account.
---
The 2015 Four Peaks District Pinewood Derby was a great success. Results and photos are now available.
---
District Activities & Events
District Key 4 Leadership
TRAINING!
Leaders can signup to be trained at ANY training being conducted by ANY district in the council. This helps leaders work training into their schedules. See ALL available training and sign up today by clicking here.
District Roundtables , Huddle, and Forum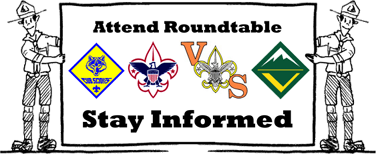 The Four Peaks District Roundtable is held the first Thursday of each month and begins at 7:00 PM (except for June and July). They are held at the Waltann LDS Chapel located at 4242 East Waltann Lane. Please see the district calendar for the scheduled training topic.
Eagle Scout Boards of Review
Get more details about eagle projects and eagle boards of review by clicking here.
District Merit Badge Counselor List
Please email Brian Flynn, Four Peaks District Advancement Chairman at imirish3@cox.net
.
PARADISE VALLEY SCHOOLS
At Paradise Valley Schools, students develop 21st century skills through challenging and engaging content and individualized learning plans. Discover how the Paradise Valley Unified School District helps prepare students for 21st century success. Visit

PVschools.net
(NOTE: The search box on the top left corner searches primarily

Four Peak District Webpages & Content)
Back to Grand Canyon Council Home Page